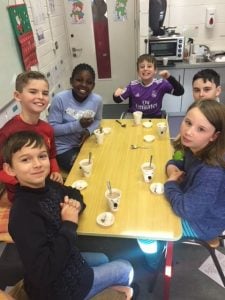 We have been having lots of festive fun here in room 14 in the build up to Christmas time. We would like to share some of the things we have been doing with our friends and families.
One of the things we love to do at Christmas time is to decorate the Christmas tree. We made paper ball reindeer as a decoration to take home to our Christmas trees. Another big tradition at this time of year is Christmas cards. We used finger painting and crepe paper to create cards with some of Santa's reindeer on the front. We also made these fun elf envelopes to deliver our cards in.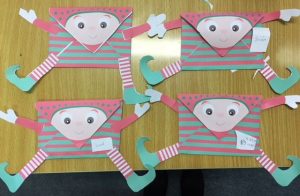 As a festive treat last Friday and to warm up from all the ice, snow and cold weather we made some hot chocolate with Ms. Reidy. We poured our hot chocolate into the polar bear paper cups we designed the day before. We added marshmallows and chocolate chips to the top.  It tasted delicious.
We would like to wish everyone a Merry Christmas from all the boys and girls in room 14 and Ms. Reidy.
By Jack O' S., Isabelle and Jack C.