GOOD LUCK TO TEAM SALLINS NS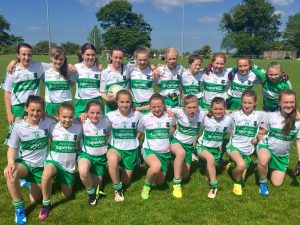 As we all know..
All roads lead to Croke Park next Sunday, 16th July 2017.
Kildare are taking on the Mighty Dubs!
On this momentous day … SALLINS will be represented on the THE PITCH!
The Girls Football Team from Sallins National School have been asked to play at HALFTIME!
The TEAM are delighted to be taking up the challenge. Unfortunately only 10 of our wonderful team players can take to the pitch and the rest of this superb team will be supporting them from the stand.
So … for all of you heading to the match next Sunday… Please support our Girls with massive cheers as they walk onto the pitch and represent girls' football, their school and community of Sallins. It is a great honour for the team