We are nearly there!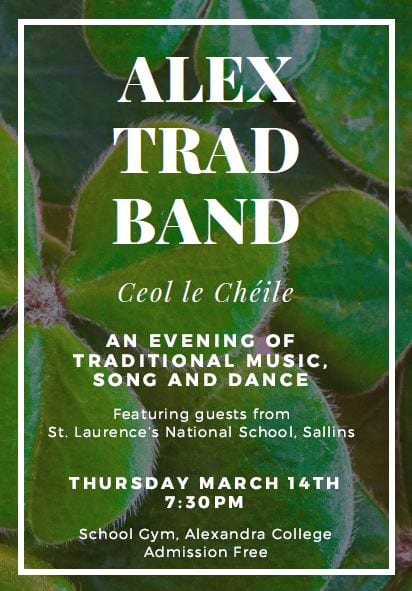 On Wednesday, 13th March 2019, Alexandra College Trad Band will join us for our Seachtaine na Gaeilge Concert. They have joined us every year for the past 12 years. We all join together and play our favorite pieces.
Then on the evening of Thursday 14th March 2019 we will visit Alexandra College to join them for their annual "Ceol le Cheile". We have great memories of these visits over the past 4 years. On the Thursday some of our past pupils will join us. They are in Secondary School and College now, and all still playing music and are studying music in school and university. Some are studying to be Primary School Teachers. We also will be joined by our friends at school who train as Irish Dancers and some of our past pupils are helping them with the steps. Our teachers are also playing with us. Come along and be part of the evening. Admission is FREE and Alexandra College give us a great welcome and a big hall for all the guests. See you there.
We are perfecting our pieces. Mr. Fell's traditional pieces are really improving and we are great with the slow air and jig that Mr Kelly taught the group for the competition in October. We have some Marching Band pieces! Mrs. Macnamara really likes the marching bands! They are different to Trad!  Also our original Trad Group have been working on some new pieces. Please join us at 7:30 in Alexandra College: 14/03/2019
Here is how we sound today….
Jigs!
Marches!
Come and join us!