It was Maths Week last week. In 6th class we had to estimate the area of the notice board in sticky notes.
Every 6th class student got to estimate. We had to estimate the length by the width in sticky notes.
This week we measured the area in sticky notes.
Length X Width = Area
11 ½ sticky notes X 15 1/3 sticky notes = 176 3/10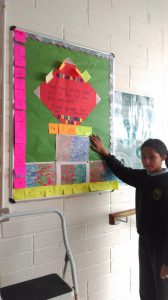 Congratulations to the three students who won a Homework Pass.
---