This week 6th Class went out to the garden to plant crocus buds. We did this in memory of the people who lost their lives during the Holocaust. The Jews had to wear yellow stars (star of St David) everyday to make it easier for the Nazis to find them so we planted yellow crocus bulbs. We all planted a bud around the base of a tree Kevin dug up for us.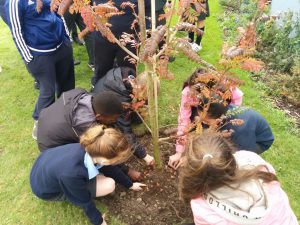 Crocuses are important because they symbolise the star of St David. They are planted in memory of the children who died during the Holocaust and when the flowers appear we are reminded of them.
We put on a pair of gloves and used trowels to dig holes around a tree and planted crocus bulbs.
After the bulbs were planted we all said a prayer before returning to class.