At the start of the season in November , we played our first match against Scoil Bhride. We played well and managed to win by one basket in the end. Then our next few matches were against Maynooth , Celbridge,Caragh and Clane . After winning all those matches we were top of the leauge!
In our semi-final we played against Scoil Mhuire, Ballymany . We won both legs and made it to the final on the 15th of February . We played against Kill for the 4th year in a row in Scoil Na Naomh Uilig, Newbridge . It was a tough game and both teams played very well but Kill managed to beat us in the end.We really enjoyed playing the final this year and we were pleased with making it to the final!
We enjoyed the season and we wish the best of luck to the 5th and 6th classes next year! Lets hope they make it to the final next year too!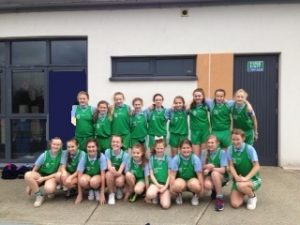 ---