Ms Molyneaux sets the pace!
4th class warm up drills
4th class being fit                                                                          1st class are great skippers!
4th class  getting ready to be active!                                                              Penalty shoot outs with 3rd class
6th class soccer time 🙂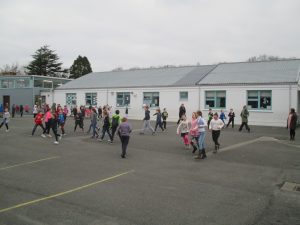 Playing some basketball with 4th class
On the 10th February at 10am our school took part in the Operation Transformation 10@10.
All of the classes in our school did activities. Some classes went outside and some stayed inside.
We love being active!
REMEMBER GET ACTIVE GET FIT YOUR BODY NEEDS IT !
BY  Ella David Evan Annalee & Sophie 🙂
---
One Response to "10@10"