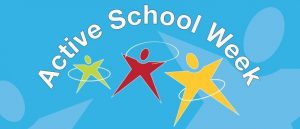 ACTIVE SCHOOLS
    COMMITTEE

       
The Active School Committee had their first meeting on Friday 3rd February. Staff and pupils came together to plan how we can keep our school active and retain our Active School flag this year. Active School Committee members David and Sophie from Mr. Kennedy's 6th class reported what has been planned so far:
This year the Active Schools Committee is planning another fun and exciting Active Schools project. We are trying to keep our school's flag and to keep our school fit.
On Friday February 10th at 10.00 am the whole school will be taking part in Operation Transformation's '10 @ 10'. There will be various fitness activities taking place around the school at this time such as basketball drills, penalty shootouts, skipping and more. Classes will be getting active in their classrooms too with dancing and exercise videos. Here is a link to the Operation Transformation exercise video:
The school will be starting the Walk on Wednesdays (W.O.W) after the midterm break. There will be a great prize for the class who walks the most Wednesdays. The prize will be announced very shortly!
Remember:
'Get Active, Get Fit, Your Body Needs It!'