SWISS ROLL!
READY! STEADY! COOK! … WITH A LITTLE HELP FROM US!
Today we had a plan!
We made a Jam Swiss Roll. We photographed every step!
Isabelle was our official photographer today. This blog is for our teachers.
Everyone has special days to celebrate and we promised some teachers we would make a step by step
'How to make a special cake!'
We presented this cake to a teacher who asked for our help!
Good Luck making this at home EVERYONE!
Celebrate!
To see the recipe we followed click on the cake …..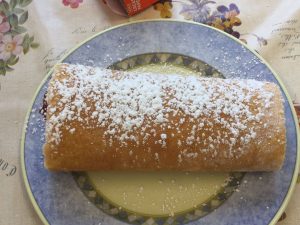 Now view our photo gallery to see how we made the celebration cake!
We used MATHS to change the recipe to 4 eggs, 100 g sugar, 100 g flour and baking powder and vanilla essence.
STEPS:
Mix eggs and sugar until creamy and full of bubbles
Use the sieve to add the flour
Fold in the flour with a metal spoon
Pour into the lined/buttered Swiss roll tin
Bake for 12 to 15 minutes
Turn out onto sugared paper
Spread on the filling
It can be jam, fruit, cream…..
Roll up and decorate!
Enjoy 😊