On Thursday we had to do a science experiment. We had to design and make a vehicle that was powered by a balloon or sail and had to travel 60cm .
We used : 2 milk cartoons, skewers, plastic wheels (which we got from a kit), blue tac , balloons and cello tape.
We used a milk carton to make the base of the design and we used the skewers and made a hole so that we could attach the wheels.  We made a paddle design and attached a skewer and we made a small hole and sellotaped on a balloon. The pressure from the balloon moved the paddle which moved the wheels.
Ours worked as we imagined it would. But we had to make a few changes along the way. But ours still moved 60 cm.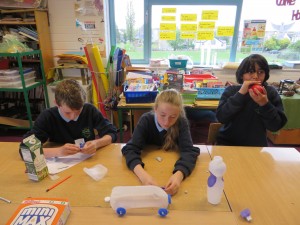 ---