For science our task was to design and make a vehicle with a fixed or an unfixed axel powered by a balloon or a sail that would travel sixty centimetres. We called our group the 'Mad Mechanics.'
We used a small box, Lego wheels, skewers , balloon, sellotape, blue tack, card and string.
First we drew our plan. Next we started to construct the vehicle. At first the box was too light so we decided to add some blue tack. Then it was too heavy so we decided to change the box to a bigger one. We then added the sail but it toppled over so we tied it down with string. We blew up our balloon but the wheels were still too small so we changed the front wheels. When we tested it again it worked.We had great fun doing this science project. Don't forget to check our blog for more posts and remember to leave a comment!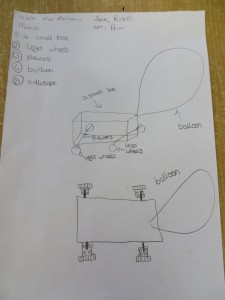 ---
One Response to "Making a vehicle"