In the tank there are lots of fish. Some of the fish are called weather lovers, fancy goldfish, koy, cray fish and the babies are called fries. The aquaponics system works when the fish produce ammonia which produces nitrite and then converts to nitrates which the plants take up and this is how they grow. Some of the plants are green beans, sugar snaps, lettuce, tomatoes, chives, parsley, red chard and pak choi. The tank can hold 1000+ litres. We are trying to keep the temperature at 21.5 degrees Celsius. There is also some natural drift wood floating in the tank to make the fish feel safe.
 These are some of the plants we are growing in the aquaponics system.
This is what the aquaponics system looks like from the outdoors. 
These are some radishes we are growing.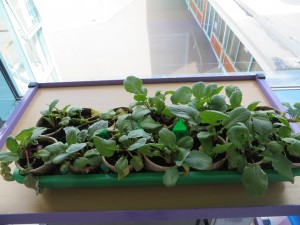 The water runs from the top of the white poles down to the bottom. 
---