You will need:
400g can of chickpeas
1/2 small onion, chopped
1 garlic clove, crushed
2 tbsp plain flour
1 tsp ground cumin
1 tsp ground coriander
1 tbsp chopped fresh parsley
salt & freshly ground black-pepper
200 ml of sunflower oil
VISIT US AGAIN TO SEE WHAT WE DID NEXT!😀🙂🍲🍴🍽
Welcome back!
Place the chickpeas, onion, garlic, flour, cumin, coriander, parsley, and salt and pepper into a food processor. Blend together until smooth.
2. Lightly sprinkle the work surface with some flour. Tip out the mixture and divide it into 12 equal pieces.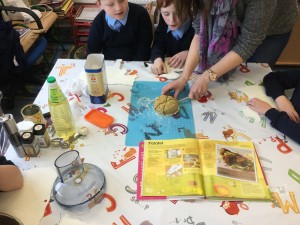 3. Fry them in sunflower oil on the pan. Turn over after 3 minuets. Serve warm or cold! 🤗
---
One Response to "welcome back! Our falafel recipe! Enjoy!"