In Room 1, the Junior Infants followed a simple pancake recipe and saw how materials can change when mixed and heated! It was very scientific …. with very tasty results!
This is the recipe:
200 g Flour
4  Eggs
600 ml Milk
Lemon Juice and Icing Sugar.
We took turns weighing, pouring and mixing!
We took turns frying the pancakes! Everyone had a pancake!
YUM!
We took some photos!
     We weighed the flour
  We added 4 eggs
  We poured in the milk
  We were very careful when using the mixer!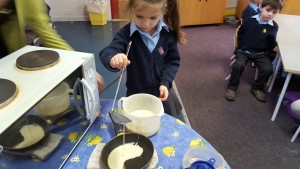 Pouring the pancake onto the pan!
  Flip the pancake!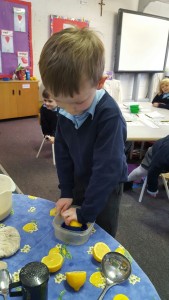 Fresh lemon juice is perfect on the pancakes!
  Tasty!
Thank you for viewing our "Science of Cooking" day on Pancake Tuesday.
---